aktueller Ort: location >> Eastern Europe ; Russia >>
Ort präzisieren: Croatia

(1)

Poland

(1)
aktueller Inhalt: information >> transportation >>
Inhalt präzisieren: agencies

(28)

carsharing

(1)

other

(10)

tours

(12)
Ergebnisseiten: (0) 10
gefundene links:
FINGER TRAVEL KRAKOW-REISEAGENTUR FINGER KRAKAU
FINGER TRAVEL-offering car rental, guides, theater tickets, sight-seeing, Auschwitz and Salt Mine (individual and groups) tours. REISEAGENTUR FINGER - die Folgendes bietet: Autovermietung, Fremdenführer in Krakau und anderen Sehenswürdigkeiten der Region sowie Ausflüge nach Wieliczka (die berühmte Salzgrube) und Auschwitz-Birkenau (KZ-Gedenkstätte
http://www.finger.krakow.pl
¸DUBROVNIK ACCOMODATION AND EXCURSION
Private Accomodations The apartments are in one hundred years old stone house near old City, in the middle of beautiful park Gradac, with the view on the old city center and a fortress Mičeta, 5 min from old town & beach Transfers We organize transfers from airport Dubrovnik, harbors, bus stations... to your destination Excursions Trust us and enjoy your stay in Croatia
http://www.lsadriatic.com
Dubrovnik excursion - transfer and private accomod
Private accomodation,travel,transfers, excursions, and turist guide in Dubrovnik and 1000 islands in Adriatic coast in Croatia. Trust us and enjoy your stay in Croatia
http://www.dubrovnik-excursion.com
Baikal Adventures Travel Centre
Baikal Adventures - Travel Centre, ecological and adventure travel at Lake Baikal, in Buryatia, Mongolia, Ulan-Ude. The detailed information about Lake Baikal region for travelers. Different ecological activities such as mountaineering, hiking, water sports, horseback riding and biking tours. Photo and ethnographic tours in the Lake Baikal region.
http://www.baikaladventures.com
Unipress Travel Ukraine
Personalized and themed tours around Ukraine. Hotel bookings in most visited and less traveled cities of Ukraine. Train, air, ferry tickets and car transfers. Plus, lots of useful information and tips for travel in Ukraine. Explore Ukraine with us!
http://ukraine-tours.com
Accommodation in Prague : Hotels in Prague
We offer an accommodation in hotels, hostels, pensions and apartments in Prague. With one of our special bids you can save 20-50% from the price of accommodation. From the most luxuries to the cheepest.
http://www.accommodationinczech.com
Car Rental Services in Turkey
Rent A Car Service in Istanbul, Dalaman, Bodrum, Antalya, Izmir, Cappadocia, Adana, Ankara and all over turkey
http://www.carrentalturkey.info
The Istanbul Hotels
Offers all kind of hotels in Istanbul, Rent A Car Services in Istanbul,Dalaman, Bodrum, Antalya, Cappadocia, Kayseri, Izmir, Marmaris, Fethiye,Adana, Gaziantep and in all over Turkey, Tours in Istanbul.
http://www.theistanbulhotels.com
günstig übernachten
Selbst-Versorger-Kücher
WLAN kostenlos
backpacker atmosphäre!

nur eine Station vom Hauptbahnhof entfernt.
schnelle Anfrage

Um uns eine detaillierte Anfrage zu senden oder eine Gruppenreservierung zu machen, schreibt einfach eine formlose E-mail (info@helterskelterhostel.com)

You can also call us in Berlin:
0049 (0) 30 280 44 99 7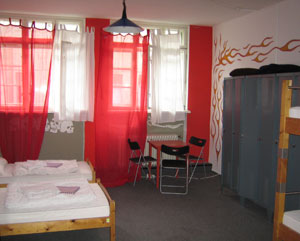 Flammen



Helter Skelter Hostel
Kalkscheunenstr 4-5
10117 Berlin

Weißbach & Schwarz
GmbH & Co KG
Johannisstr 2
10117 Berlin
Deutschland

Mitglied des



AGB
Terms & Conditions
Impressum