you are here: location >> Eastern Europe ; Russia >> Bulgaria >>
you can go to: Plovdiv

(2)

Sinemoretz

(1)

Sofia

(14)

Varna

(2)
you are looking for: information >>
get more precise: accommodation

(20)
result pages: (0) 10 20
matched links:
Galiani Hostel

70 Hristo Botev blvd
1303 Sofia
Bulgaria

Hostel 'Galiani' is situated in a cultural heritage building, built in the beginning of the twentieth century. It is located in the most beautiful and oldest part of Sofia, in the hearth of the city. Our small hostel is a perfect place for travellers who want cheap and clean accommodation. Only 5 minutes walk to the National Theater, National Art Gallery, City Garden, National Palace of Culture... - we are right in the heart of the most lively part of the city center: An area famous for the best clubs, restaurants and trendiest nightlife spots.
Sofia Guesthouse

27 Patriarch Evtimiy Blvd.
Sofia
Bulgaria

Located in the very city center of the capital of Bulgaria, Sofia Guesthouse offers secure, clean and affordable accommodation in newly renovated 4, 6 and 8 bed rooms. For a total of 9 euro per night including all you can eat breakfast, you will be able to enjoy free linen, hot showers/toilets, fully equipped kitchen, free internet access as well as wide screen TV sets with cable TV. Laundry and ironing facilities, safe secure storage in over 50 lockers at guests' disposal will quarantee you a comfortable stay while our friendly hosts will assist you by arranging exciting one day trips, mountain treks, bicycle and car rental and a lot more. Apart from its top location the hostel offers a nice garden for relaxation. Sofia Guesthouse is also just 350 m from the most famous meeting point in Sofia - the monument of Patriarch Evtimiy (conditionally named "Popa" in Bulgarian).
Plovdiv Guesthouse

20 Saborna str.
4000 Plovdiv
Bulgaria

Plovdiv Guesthouse is run by Penguin Travel. Over the past 15 years Penguin Travel has specialized in providing quality products in the f.i.t. travel area in Bulgaria and a number of other countries including Russia, Spain, Portugal, Denmark, China, Mongolia, Iran and more. In particular active tourism and the exploration of not so known areas on the borders of the well-known tourist destinations is our speciality. Trekking, birdwatching, sightseeing, cycling, horseriding and on request any other trips could be organized with the quality assured by our in depth local experience. Our staff at our offices in Denmark, Sweden, Russia, Bulgaria & Mongolia accompanied by a wide network of experienced suppliers will ensure the quality, safety, good value and cost-effectiveness of your tour programmes.
G & LL Lounge Accommodation

98/B Kniaz Boris I str,6th floor
1000 Sofia
Bulgaria
roSSi hostel
Rossi Hostel is the perfect place to stay for an unforgettable trip to Sofia. We are centrally located, close to the Central Railway Station, but the area is peaceful with lots of fresh air! There is lots of places to go walking.Your accommodation in this luxury hostel will be very pleasant and comfortable. The rooms are very clean and bright, they have new beds and the decor is modern and fashionable. So we feel sure that you will be happy to come back here. The hostel has capacity for 10 people and has 2 balconies, 2 bathrooms and 2 WCs.
SolarIS Hostel
SolarIS Hostel is the cheapest hostel in Varna, Bulgaria. Kichevo is home to our brand new. Our Solaris Hostel is on just 15 minutes (9km) with the public transport from the Varna city center.
Orient Express Hostel

8A Christo Belchev Str., 3floor
1000 Sofia
Croatia
Hostel on the way

25 Janaskivitzstr.
- Sofia
Bulgaria

Hostel on the Way in Sofia Bulgaria is a small and trendy hostel in Sofia. We're located at the Bolismen Park in the southern part of the city. We're offering style, convenience and character and adjoining a quiet and charming Sofia garden square, Hostel on the Way is situated in an ideal location for its guests, only a few minutes walk from public transport.
http://www.sofia-accommodation.com
Sofema Business & Leisure is a Sofia, Bulgaria based company, providing assistance, services and accommodation to both companies and individuals, whether they are wishing to establish business or simply enjoying the cultural events and tourist sites which abound in the capital city.
http://www.sofia-accommodation.com
Apartments-Hotels ROSITZA,SOFIA BULGARIA

Rositza str.
1000 Sofia
Bulgaria

Apartments-Hotels ROSITZA,SOFIA BULGARIA Apartments in the very centre of Sofia for short or long term rent.Attractive prices.
budget accommodation
self-catering kitchen
free wireless access
backpacker atmosphere!

just one stop from the
main train station.
Quick Request

To send us a more detailed request or to make a booking for a group please send a simple mail (info@helterskelterhostel.com)

You can also call us in Berlin:
0049 (0) 30 280 44 99 7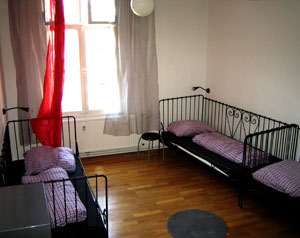 girls dorm smaller room



Helter Skelter Hostel
Kalkscheunenstr 4-5
10117 Berlin

Weißbach & Schwarz
GmbH & Co KG
Johannisstr 2
10117 Berlin
Deutschland

Mitglied des



AGB
Terms & Conditions
Impressum