you are here: location >> Western Europe >> Greece >>
you can go to: Athens

(6)

Corfu

(1)

Corinth

(1)

Crete

(1)

Ios

(1)

Naxos

(1)

Paros

(1)

Rhodos Old Town

(1)

Santorini

(1)

Thessaloniki

(2)
you are looking for: information >> accommodation >> hostels >>
result pages: (0) 10
matched links:
Backpackers Refuge
Pink Palace Resort

Agios Gordios, Sinarades
49084 Corfu
Greece
Athen style

Agias Theklas, 10
- Athens
Greece

Located beneath the Acropolis, in the middle of the action, all sightseeing at walking distance and Psirri nightlife around the corner!
A1 Soula Hotel & Hostel Naxos

Saint George Beach
84300 Naxos
Greece

A1 Soula Hotel is a friendly family run hotel and hostel located in the Saint George beach in Naxos island, only a 2 minutes walk from Naxos town centre. It is a small sized economy hotel with 22 rooms and 3 dorms. All comfortable and bright rooms have a balcony, bathroom, daily cleaning service, TV, refrigerator, a/c (extra charge), direct-dial phone, music, safety deposit boxes (reception), shower and WC. All dorms have private bathroom, TV, refrigerator, direct-dial phone, safety deposit boxes (reception), shower and WC. Also the hotel offers FREE transfer to/from port and airport, FREE internet access (ADSL), FREE wireless internet, TV lounge and breakfast (extra charge). FREE map, excursions, car rental, etc via reception.
Hotel Neos Olympos

38 Th. Deligianni Str.
10438 Athens
Greece

Hotel Neos Olympos is situated in the heart of Athens in front of metro and the Central train station. We offer 30 clean spacious rooms for 1,2,3 or 4 persons most of them with balcony, many with private bathrooms and others with shared facilities but ALL with central heating, air condition and tv. You can choose between rooms and dormitories! The reception is open 24 hours per day, 365 days per year to help you. We are close to Metro, Central railway station, Flea Market, Acropolis(4 metro stops), Plaka , Internet Cafes, Greek Taverns, shops, Laundry, Travel agency, Night clubs. The traditional building established in 1938 is recently (2004) fully renovated but keeps its traditional character. Come to feel the friendly remarkable atmosphere! We also offer: Free! Fresh sheets! Free left luggage! For as long as you are around the city or the island. Free hot showers! 24 hours per day. Free Safe! For your valuables. Information! About your next move, how and where to go. HOW TO FIND OUR HOTEL. Come out of the Larissa-Europe station, turn right, walk 100m and there you are. From piraeus catch the metro to Omonia. From Omonia catch the red line metro to Larissa station. From Airport catch the suburban to Larissa train station. From any other arrival point or about any other question, call us to give you directions for the cheapest and more convinient way to the Hotel. Enjoy Greece!
Young Inn

P.O.Box 41
84440 Paros
Greece
Zorbas Hotel

10 GKYILFORDOU STREET
10434 Athens
Greece
Sunrock Backpackers hostel

Pelekas Beach
490084 Corfu
Greece

When your tired of missed connections, ferries, trains and unfamiliar city streets, sunrock is the perfect home to rest and play whilst enjoying our range of delicious freshly cooked breakfasts and home cooked evening meals. All of which are freshly prepared from our increasing range of home grown organic produce from our own farm. Whether you choose to party in the bar, relax on our massive sundeck or chill out on the beach beside a bonfire, there is plenty of nightlife for everyone at Sunrock. Located on the waterfront of wide, sweeping, sandy, Pelekas beach, Sunrock enjoys spectacular views across the turqoise blue waters of the Ionian sea. And with the unrivalled sunsets, it's not hard to realise why Sunrock is described by Lonely planet as ' The next backpackers hangout'. Guests can enjoy our exclusive boat trips, soaking up the sun whilst enjoying the views of the coastline. Or How about relaxing in our exclusive mudbath to cleanse the body and mind. Sunrock is the perfect base to rent a Scooter or a car and explore the island or follow our hiking trails to experience the natural beauty of the west coast. Offering beds in a range of rooms priced to suit your budget, you can choose from Sea-view balconies, ensuite bathrooms or shared facilities. Whatever option you choose, our prices always include your choice of our range of home cooked breakfasts which are freshly prepared and served served until 1pm and also a 2 course home cooked evening meal of traditional greek cuisine.
Thessaloniki Youth Hostel

44 Alexandre Svolou
Thessaloniki
Greece
Annas Hostel

The Entrance of Perissa
Santorini
Greece
budget accommodation
self-catering kitchen
free wireless access
backpacker atmosphere!

just one stop from the
main train station.
Quick Request

To send us a more detailed request or to make a booking for a group please send a simple mail (info@helterskelterhostel.com)

You can also call us in Berlin:
0049 (0) 30 280 44 99 7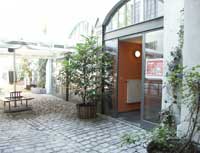 Helter Skelter Hostel
Kalkscheunenstr 4-5
10117 Berlin

Weißbach & Schwarz
GmbH & Co KG
Johannisstr 2
10117 Berlin
Deutschland

Mitglied des



AGB
Terms & Conditions
Impressum