you are here: location >>
you can go to: Africa

(14)

America

(128)

Asia ; middle East

(61)

Australia ; Oceania

(5)

Eastern Europe ; Russia

(322)

Western Europe

(705)

World

(16)
you are looking for: information >> accommodation >>
get more precise: agencies

(103)

booking_engines

(21)

guidebooks

(23)

hostels

(1150)

other

(61)
result pages: 0 10 20 30 40 50 60 70 80 90 100 110 120 130 140 150 160 170 180 190 200 210 220 230 240 250 260 270 280 290 300 310 320 330 340 350 360 370 380 390 400 410 420 430 440 450 460 470 480 490 500 510 520 530 540 550 560 570 580 590 600 610 620 630 640 650 660 670 680 690 700 710 720 730 740 750 760 770 780 790 800 810 820 830 840 850 860 870 880 890 900 910 920 930 940 950 960 970 980 990 1000 1010 1020 1030 1040 1050 (1060) 1070 1080 1090 1100 1110 1120 1130 1140 1150 1160 1170 1180 1190 1200 1210 1220 1230 1240 1250
matched links:
Ritchies Hostel

Karlova 9
11000 Praha 1
Czech Republic
arur.de - Alles rund ums Reisen
Hier finden Sie Reiseinformationen zu den verschiedensten Themen rund ums Reisen (Wandern, Fahrrad, Kanu, Kochen, Medizin etc.), eine Reiselinksammlung und die Möglichkeit eigene Reiseberichte zu veröffentlichen. Ein Treffpunkt für Weltenbummler.
http://www.arur.de
Hotel LAGOA e MAR

Av. Parque das Dunas, 3.250
Praia de Jaua, Salvador - Bahia
Brasil
Khaosan Tokyo G.H.

2-1-3 Kaminarimon taitoku
111-0034 Tokyo
Japan

No1.Hostel in Asakusa Khaosan Tokyo Guest House is the cheapest accommodation in Central Tokyo 24 hour booking, economy Inn for backpacker
Downtown Paraiso Hostel
Owned and managed by 4 friends Downtown Paraiso Hostel offers you comfortable and affordable accommodation on a perfect location. Situated in central Barcelona, 150 meters from the Ramblas, La Boqueria Market and the main tourist attractions, our place is designed for you to have a great time on a warm and friendly atmosphere. The Hostel has no curfew, no lock out, it's open 24hs. Easy to reach from all Airports, Bus and Train Stations and surrounded by cafés, restaurants, theatres, supermarkets, bakeries, laundromats, post office, and of course nightlife! Our rooms are clean and comfortable all newly decorated, most of them with en-suite facilities: Twins, Doubles and Dorms – so whether you are traveling solo or with your mates, there's always someone to go out with. They all have lockers where you can leave your things for free (just bring a padlock!) Bed linen, blankets and personal room keys provided. Also available for guest's use is a lounge and CABLE TV/DVD room with international channels. Hang out in the common room and chat with new friends or relax with a movie on our plasma TV (choose some DVD for free at the front desk!) High speed Internet access is available as well as free WiFi access for guests with their own laptop. We have a fully equipped kitchen to prepare your own meals and luggage–storage for free on the day you're checking out. You can check-in at any time. If you know you are arriving later than 10pm, please send us an e-mail with your booking reference number to let us know at what time you are going to arrive. Our staff is on hand to answer your queries 24hs, speaking Spanish, English, Italian, Greek, German and Portuguese. Downtown Paraiso Hostel is your home away from home and a brilliant place for making friends and enjoying all the sights Barcelona has to offer!
mare

biokovska3
21000 Split
Croatia

hostels split croatia
BA Stop Hostel in Buenos Aires
Located in the Heart of the City, in a safe area, just one block away from the historic Avenida de Mayo, and few steps from ALL mayor subway lines and buses which take you to the key places in the City. Ample rooms, with windows and balconies to the outside. Common rooms with board games, pool tables, reading room and TV cable. Great Breakfast!!!!! Home made-warm bread home made marmalade croissants butter dulce de leche (a type of caramel) coffee tea…. all FREE! and no quantity limits…all you can eat.
Harbour Inn
Jenny and Manzoor welcome you to newly opened Harbour Inn Bed and Breakfast 'Where travel and leisure blend together'. Pamper yourself at our luxury B&B here in Beijing at very affordable prices. Harbour Inn is a Chinese traditional Bed and Breakfast located in the heart of Beijing just minutes way from the mysterious Bell Tower, Drum Tower, Ditan Park and Beihai Park. Where you can enjoy some quality time with your friends. Harbour Inn offers a very warm and friendly atmosphere for Beijing tourists and visitors. Coming here you'll forget about all your problems, enjoying the relaxing atmosphere of the Chinese hutong. We offer a variety of single, twin, double, triple, quad rooms and dormitory beds, en-suite and with sharing facilities, equipped with color TVs, air-conditioning, hot & cold shower with towels and toiletry. Tea or coffee maker. All the rates include continental /Chinese traditional breakfast, taxes and service. In the hotel you'll find a comfortable lounge where you can relax late in the evenings with a drink or a cup of Chinese tea or coffee. If you are looking for comfortable accommodation in the centre of Beijing City which is convenient, quiet and great value for money, look no further than Harbour Inn. In Beijing, you will be spoilt for choice with everything available from grand, internationally famous hotels to a small hotel. Many visitors prefer to stay in economical good value B&B/ hostels / hotels, leaving more of their budget available to enjoy Beijing's sights, shows and events. For a fun, lively and great value place to stay and party in Central Beijing you can't beat the Harbour Inn. Guests at this Bed and Breakfast get to enjoy the benefit of being located above a traditional Chinese Hutong. This atmospheric Beijing tea is a great place to soak up a real taste of the Centre. You can relax with a drink or enjoy Chinese culture. Staying at The Harbour Inn you will see a completely different side of Beijing life, which contrasts dramatically with that of Hutong. What makes us different from other hotels? -Outstandingly Good Value. -Excellent Location. -Free Breakfast. -Superb Cleanliness. -Internet Access. -travel information of Beijing and beyond -general assistance in English -flight confirmation -postcards and letter sending -interpretation -bicycle hire -car hire -laundry -C D burn -Tours and activities -trips to the Great Wall at all sections including the Great Wall at Mutianyu, Badaling, Simatai and Jinshanling. -Beijing City Tour (Forbiden City & Tian'anmen Square, Summer Palace and Temple of Heaven) -Hutong Tour -Beijing Opera, Chinese Acrobatics and Kungfu show Tickets booking of train, flight (both international and domestic) and ferry. AIRPORT PICK-UP In order to get to the hotel from the airport without hassle, we provide a very reliable airport pick-up service taking you all the way to the hotel without any problem.
Pension Hotel Luisenstadt

Köpenicker Str. 56 / 57
10179 Berlin
Germany

Luisenstadt, die Pension in Berlin Mitte. Sehr preiswerte Pension nahe dem MOMA, Zimmer mit Du,WC buchen Sie ab 16 Euro p.P. nahe Alexanderplatz in der historischen 'alten Mitte' Berlins
Villa Babilla Hostel Kolumbien

CALLE 20 # 3 - 40
00000 Santiago de Tolu
Colombia

We are Laffi (German) and Alexa (Colombian), After of walking much by the planet, like globetrotters, knowing a lot of countries, people, cultures, races and languages, we decided to stop a time and to throw roots in some place of the world, with the Idea to construct the Guest House that We always we wanted to find in our trips . A Place that, even been confortable, clean, with a nice design, a cool atmosphere and Service, Would had an attainable tariff… Is indeed why the success to Villa Babilla, it is sounding of mouth in mouth, because we took pains in offering ours guests, what we would liked to receive . We found in Tolu , Sucre, Colombia, a little town , not promoted, but nothing less than the Meeting Point and departure Port to Excursions to the Paradise called Gulf of Morrosquillo, surrounded by paradise Islands in the Archipelago of San Bernardo, 45 minutes far way by Boat, Mud`s Volcanos, 30 minutes far away by bus, Bog, Manglar and the most extensive biodiversity of fauna and flora, 10 minutes far away by bus. Villa Babilla is a Place of Lodging for People, who wishes a vacations season in Colombia, in different atmosphere, far away from typical racket of the coast, vallentos and disorder.
budget accommodation
self-catering kitchen
free wireless access
backpacker atmosphere!

just one stop from the
main train station.
Quick Request

To send us a more detailed request or to make a booking for a group please send a simple mail (info@helterskelterhostel.com)

You can also call us in Berlin:
0049 (0) 30 280 44 99 7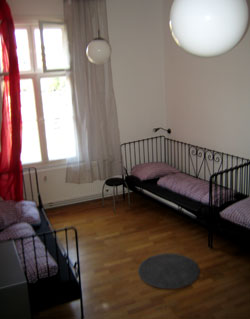 girls dorm smaller room



Helter Skelter Hostel
Kalkscheunenstr 4-5
10117 Berlin

Weißbach & Schwarz
GmbH & Co KG
Johannisstr 2
10117 Berlin
Deutschland

Mitglied des



AGB
Terms & Conditions
Impressum