you are here: location >>
you can go to: GENERAL

(3)

Africa

(3)

America

(8)

Asia ; middle East

(16)

Eastern Europe ; Russia

(28)

Western Europe

(34)

World

(10)
you are looking for: information >> transportation >> agencies >>
result pages: 0 10 20 (30) 40 50 60 70 80 90 100
matched links:
Baz Bus
BAZ BUS (South Africa) - South Africa's only convenient hop-on hop-off door-to-door backpacker bus service to over 180 hostels in over 80 towns and cities.
http://www.bazbus.com
NGUYEN THE THAO
Khoaviettravel vietnam hotel, vietnam travel, vietnam resort, vietnam accommodations,vietnam beach tours,vietnam cruise tours,vietnam hohiday,vietnam vacations,vietnam travel agency, Vietnam adventure tours
http://www.khoaviettravel.com
apartmentsholiday
Apartments, Aparthotels, flats, accommodations in Lisbon, Budapest, Rio de janeiro, Prague, Barcelona lodgings, vacation rentals, villas.
http://www.apartmentsholiday.com
FINGER TRAVEL KRAKOW-REISEAGENTUR FINGER KRAKAU
FINGER TRAVEL-offering car rental, guides, theater tickets, sight-seeing, Auschwitz and Salt Mine (individual and groups) tours. REISEAGENTUR FINGER - die Folgendes bietet: Autovermietung, Fremdenführer in Krakau und anderen Sehenswürdigkeiten der Region sowie Ausflüge nach Wieliczka (die berühmte Salzgrube) und Auschwitz-Birkenau (KZ-Gedenkstätte
http://www.finger.krakow.pl
Welcome Rajasthan Tour and Travels India
Welcome Rajasthan Tour And Travels India offers Tours,Packages,Hotel Reservation and Car rental In Rajasthan India.
http://www.welcomerajasthan.com
Prague apartments > cheap Prague apartments
Prague apartments ,cheap Prague apartments,Old Town Square apartments Prague |Prague apartments Charles Bridge,Prague apartments Wenceslas Square,prague holiday apartments
http://www.hotelcomfort2003.com
Motorbike Vietnam Off road Tours
Customized and private off-road motorcycle, motorbike, moped scooter and dirt bike tours in Vietnam
http://www.motorbikevietnam.com
Motortour in Vietnam
Voyage Vietnam- Off-road tours in Vietnam, Laos, Cambodia (Indochina), Thailand and China on motorbike, moped scooter, motorcycle and 4x4 jeep, with kayaking and trekking an option
http://voyageviet.com
budget accommodation
self-catering kitchen
free wireless access
backpacker atmosphere!

just one stop from the
main train station.
Quick Request

To send us a more detailed request or to make a booking for a group please send a simple mail (info@helterskelterhostel.com)

You can also call us in Berlin:
0049 (0) 30 280 44 99 7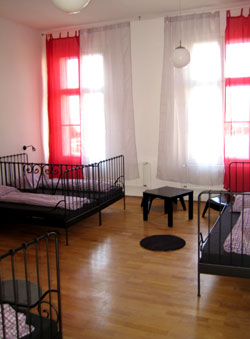 girls dorm bigger room



Helter Skelter Hostel
Kalkscheunenstr 4-5
10117 Berlin

Weißbach & Schwarz
GmbH & Co KG
Johannisstr 2
10117 Berlin
Deutschland

Mitglied des



AGB
Terms & Conditions
Impressum