you are here: location >>
you can go to: GENERAL

(11)

Africa

(14)

America

(142)

Asia ; middle East

(80)

Australia ; Oceania

(7)

Eastern Europe ; Russia

(351)

Western Europe

(800)

World

(23)
you are looking for: information >>
get more precise: accommodation

(1253)

cityinfo

(131)

transportation

(82)
result pages: 0 10 20 30 40 50 60 70 80 90 100 110 120 130 140 150 160 170 180 190 200 210 220 230 240 250 260 270 280 290 300 310 320 330 340 350 360 370 380 390 400 410 420 430 440 450 460 470 480 490 500 510 520 530 540 550 560 570 580 590 600 610 620 630 640 650 660 670 680 690 700 710 720 730 740 750 760 770 780 790 800 810 820 830 840 850 860 870 880 890 900 910 920 930 940 950 960 970 980 990 1000 1010 1020 1030 1040 1050 1060 1070 1080 (1090) 1100 1110 1120 1130 1140 1150 1160 1170 1180 1190 1200 1210 1220 1230 1240 1250 1260 1270 1280 1290 1300 1310 1320 1330 1340 1350 1360 1370 1380 1390 1400 1410 1420 1430
matched links:
Traveller Inn
Traveler Inn is an economy Tour Operator with the own hostel and rent a car service. We are very much special for backpackers who would like to travel Bangladesh. Traveler Inn is just 3km away at the north of Zia International Airport, Dhaka. We would like to introduce ourselves as a home stay accommodation not a hotel or a guesthouse. But we would insure our valued guest that is our total services are as well as a hotel or a guesthouse. It is guaranteed that any of our guests will feel homely and most cordially with us. You will come as our guest, but will go back as our friend. We have four twin bed air conditioned rooms with hot and cold water shower, toilet with bath tub, TV with cable connection, and two air conditioned Couple bed Room with hot and cold water shower, attached toilet, TV with cable connection and one Global Standard six-bed mixed-dorm. We also have a large living room for recreation with TV, l-Business Center, self cooking kitchen and more facilities. Traveler Inn wants to guarantee perfection and ensure that you get the best value for your money. We have the commitment to make your experience of the Bangladesh what you planned it to be. We know that you'll be promising to come back and will drop a line to your friends to discover the hospitality of Bangladesh tourism and culture. We offer transport to and from the Airport and to Bangladesh city and accommodation in a monthly basis: $200 per month for a Private room and $400 with food included. We have lot of tour packages all over the Bangladesh. Any of our guests can travel very smoothly with us. Note: Government Tax not included in our declare price. It is 3km. away at the north of Dhaka international airport. 30 minuets walking distance from airport bus stop. By Rickshaw (try cycle,what is our traditional transport) it will take only 15minuits. By bus, some one has to ride on a public bus and has to get down at Azam pur bus stop, it takes hardly 5 minuites. Then he/she has to walk at the north approx 400m till SYED GRAND MARKET, what is the land mark for you and it is the middle of sector no. 07, Uttara., Take the left turn and very closely take the first right turn on 35no. road. Then you have to take the first left turn.at the west on 29no. road. You have to walk more 200m approx and then take the right turn on 31no. road. At the middle of this road on your left you will find our house. As the same way also you can find us by a Rickshaw it takes 5 minutes from Azampur bus stop. Traveller Inn in Dhaka, Bangladesh, Asia House #11, Road # 31, Sector # 07, Uttara Model Town Specials -------------------------------------------------------------------------------- Compare this Property with others you have viewed -------------------------------------------------------------------------------- Listed below are all the properties whose details you have looked at. For your convenience we have added a summary of each properties information into a table for you to enable you to make quick comparisons between these properties and help you in your decision about which property to choose. Facilities Room Rates Prices in USD Name Dorm Private Rating Traveller Inn 10.00 15.00 0% Book Each person who books with Hostelworld is invited to rate the hostel after their stay. This way, future bookers get an up to the minute opinion of just how good a hostel really is. The following ratings were submitted by customers who booked this Hostel on Hostelworld.com in the last 6 months. There have been no customers ratings over the past 6 months
Port Hardy Hostel

8740 Main Street,
VON 2PO Port Hardy
Canada

Situated in the heart of downtown Port Hardy, our hostel is located steps away from the bus depot, tourist information booth, ocean seawall and shops.
CNN Backpackers

2081 Peninsula Road
V0R 3A0 Ucluelet
Canada
C&N BACKPACKERS Guesthouse

241 campbell street
Tofino (VANCOUVER ISLAND) BC
Canada
C&N BACKPACKERS CHALET

1492 Harrow Road
Whistler/ Pemberton BC
Canada
C&N BACKPACKERS HOSTELS

927 Main street
V6A2V8 Vancouver
Canada

providing clean inexpensive accomodateion for $ 16 and up centrally located, kitchen, lounge, tour desk, hostel activities, internet, free parking, no curfew or crazy rules
C&N CENTRAL STATION HOSTEL

1038 Main street
V6A2V8 Vancouver
Canada

across the street from train station and busdepot, walking distnace to all major tourist attractions, $ 16 and up, free linen, free maps, free airport pickup with strech limo (no joke) kitchen, internet, bar restaurant
The Finest Luxury Hostel in Madurai

642,K.K.Nagar,Opp.to the Hindu Office,
625020 Madurai,Tamilnadu,
India

International Boutique Hostel in Madurai,India - Dormitories & Deluxe rooms are available for rent. Elements hostel is the most Luxurious, affordable, safe and comfortable place to stay in Madurai, for Backpackers and any other kind of travelers.For More details visit us at http://www.elementshostel.com/madurai. Elements Hostel, No.642,KK Nagar, Opp to Hindu Office, Madurai-625020. TN,India
www.seehaus-lichtblick.de
Seehaus Lichtblick - dem bäckpäcker in Strande, 15 km nördlich von Kiel Zentrum Wir haben unser Haus nach dem Vorbild der schwedischen Wanderheime verändert. Bei uns findest du günstige Übernach- tungsmöglichkeiten in einer lockeren Umgebung - und das nur 150 m von der Ostsee entfernt! Wir sind da für Fahrrad- und Motorradtouristen, Beachvolleyballer, Golfer, Künstler, Reiter, Taucher, Segler, Surfer und Angler, Handwerker, Hochzeitsgäste, Universitätsbesucher und ... überhaupt alle jungen und jung gebliebenen Reisenden (c; Kommunikation mit uns und unter den Gästen ist beabsichtigt und erwünscht.
Joy Hotel
Hanoi hotels, hotels in Hanoi, cheap hotels in Hanoi, budget hotels in Hanoi
budget accommodation
self-catering kitchen
free wireless access
backpacker atmosphere!

just one stop from the
main train station.
Quick Request

To send us a more detailed request or to make a booking for a group please send a simple mail (info@helterskelterhostel.com)

You can also call us in Berlin:
0049 (0) 30 280 44 99 7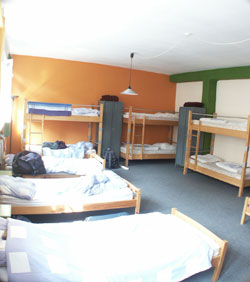 the big dorm



Helter Skelter Hostel
Kalkscheunenstr 4-5
10117 Berlin

Weißbach & Schwarz
GmbH & Co KG
Johannisstr 2
10117 Berlin
Deutschland

Mitglied des



AGB
Terms & Conditions
Impressum