CURRENT_LOCATION not translated yet : location >>
POSSIBLE_LOCATION not translated yet : GENERAL

(11)

Africa

(14)

America

(142)

Asia ; middle East

(80)

Australia ; Oceania

(7)

Eastern Europe ; Russia

(351)

Western Europe

(798)

World

(23)
CURRENT_CONTENT not translated yet : information >>
POSSIBLE_CONTENT not translated yet : accommodation

(1253)

cityinfo

(130)

transportation

(81)
PAGES not translated yet : 0 10 20 30 40 50 60 70 80 90 100 110 120 130 140 150 160 170 180 190 200 210 220 230 240 250 260 270 280 290 300 310 320 330 340 350 360 370 380 390 400 410 420 430 440 450 460 470 480 490 500 510 520 530 540 550 560 570 580 590 600 610 620 630 640 650 660 670 680 690 700 710 720 730 740 750 760 770 780 790 800 810 820 830 840 850 860 870 880 890 900 910 920 930 940 950 960 970 980 990 1000 1010 1020 1030 1040 1050 1060 1070 1080 1090 (1100) 1110 1120 1130 1140 1150 1160 1170 1180 1190 1200 1210 1220 1230 1240 1250 1260 1270 1280 1290 1300 1310 1320 1330 1340 1350 1360 1370 1380 1390 1400 1410 1420
RESULTS not translated yet :
Hostel Brasil
We are located in a beautiful house in the Jardim Brasil, between the Shopping Barra and the lighthouse, next to the one of most famous beach in Salvador, called Praia do Porto. We are also near to banks, shops, travel agency, restaurants, bars and night clubs. The hostel offers dormitories (male and female) and double rooms, a nice sitting room with TV, kitchen, bathroms (male and female) and Internet´s room. Our dormitories have from 4 to 10 beds and we don't have bathroom inside the bedrooms.
Hostel in St. Petersburg
CubaHostel Backpackers is cosy, modern hostel with the great international atmosphere in the very center of the St. Petersburg, the perfect place to meet people, exchange travel stories and find new experiences. It provides a budget accommodation option for tourists, travellers and backpackers visiting Saint Petersburg.
Motorbike Vietnam Off road Tours
Customized and private off-road motorcycle, motorbike, moped scooter and dirt bike tours in Vietnam
http://www.motorbikevietnam.com
casa margouya chile

sta rosa 318
X Puerto Varas
Chile

a full colored wooden house , down town location , near by the llanquihue lake. 5 rooms , full equiped kitchen , a central room with table games , music , books. tourism information , tours and out door activities , a great place to meet travellers
Allhostel.com

wilshire blvd
90010 los angeles
usa

International Travel Info and Guide for Backpackers. Trains, Hostels, Embassies and more.
A1 Soula Hotel & Hostel Naxos

Saint George Beach
84300 Naxos
Greece

A1 Soula Hotel is a friendly family run hotel and hostel located in the Saint George beach in Naxos island, only a 2 minutes walk from Naxos town centre. It is a small sized economy hotel with 22 rooms and 3 dorms. All comfortable and bright rooms have a balcony, bathroom, daily cleaning service, TV, refrigerator, a/c (extra charge), direct-dial phone, music, safety deposit boxes (reception), shower and WC. All dorms have private bathroom, TV, refrigerator, direct-dial phone, safety deposit boxes (reception), shower and WC. Also the hotel offers FREE transfer to/from port and airport, FREE internet access (ADSL), FREE wireless internet, TV lounge and breakfast (extra charge). FREE map, excursions, car rental, etc via reception.
Motortour in Vietnam
Voyage Vietnam- Off-road tours in Vietnam, Laos, Cambodia (Indochina), Thailand and China on motorbike, moped scooter, motorcycle and 4x4 jeep, with kayaking and trekking an option
http://voyageviet.com
Vietnam motorbiking & adventure tours
Voyage Vietnam- Motorbiking, Motorcycling, Motorbike, Motorcycle, 4x4, Fiesta, Trekking & Kayaking Tours, Rental, Ride in Vietnam, Laos, Cambodia (Indochina), Thailand and China.
http://www.voyagevietnam.net
USA Hostel Verzeichnis
Hostel Verzeichnis für die USA mit der Möglichkeit Hostels zu bewerten, Kommentare zu hinterlassen, um so anderen Benutzern die Wahl des richtigen Hostels zu erleichtern.
http://www.usa-hostels.de
cocina en la recepcion
free wireless access
backpacker atmosphere!
Consulta rápida

Para realizar una consulta detallada o hacer una reserva de grupo envíanos un simple e-mail (info@helterskelterhostel.com)

También puedes llamarnos a Berlín:
0049 (0) 30 280 44 99 7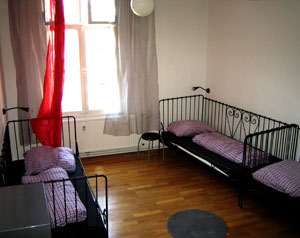 girls dorm 2



Helter Skelter Hostel
Kalkscheunenstr 4-5
10117 Berlin

Weißbach & Schwarz
GmbH & Co KG
Johannisstr 2
10117 Berlin
Deutschland

Mitglied des



AGB
Terms & Conditions
Impressum