CURRENT_LOCATION not translated yet : location >> Western Europe >>
POSSIBLE_LOCATION not translated yet : GENERAL

(2)

Austria

(1)

France

(1)

Germany

(40)

Ireland

(3)

Italy

(2)

Netherlands

(2)

Portugal

(2)

Sweden

(1)

Switzerland

(2)

United Kingdom

(7)
CURRENT_CONTENT not translated yet : information >> cityinfo >>
POSSIBLE_CONTENT not translated yet : impressions

(9)

nightlife

(14)

other

(29)

sights

(8)

tours

(32)

what_to_do

(13)
PAGES not translated yet : 0 10 20 30 (40) 50 60 70
RESULTS not translated yet :
K 17
Im K17 in der Pettenkoferstraße 17a in Friedrichshain finden regelmäßig Konzerte und Parties statt. Von Metal, Rock & Punk über Gothic, Wave, EBM, Minimal & Neofolk bis hin zu Industrial, 80er, Pop und Techno - für jeden Geschmack ist das passende dabei. In the K17 (located in the street Pettenkoferstraße 17a in Friedrichshain) concerts and parties are taking place regularly. From Metal, Rock & Punk over Gothic, Wave, EBM, Minimal & Neofolk up to Industrial, 80s, Pop und Techno – we cater for all tastes
http://www.k17.de
Reisewoerterbuch
MP3 Reisewörterbuch in verschiedenen Sprachen. Die Wortphrasen und Vokabeln kann man im Internet üben, und als MP3 Datei herunter geladen. Die Lektionen sind als Sprachkurs in Deutsch, Englisch, Französisch und Spanisch kombinierbar und von Muttersprachlern gesprochen.
http://www.reisewoerterbuch.com
Humboldt Tours Berlin, www.humboldttoursberlin.com
Humboldt Tours Berlin offers historical walking tours from local doctoral students of German history, and visiting scholars from the American Fulbright Program. -Also check out the Wild East Pub Crawl in Kreuzberg and Prenzlauer Berg!
http://www.humboldttoursberlin.com
Pub crawl In Rome, Nightlife dancebars
Pub crawl is the best party in Rome! With HOMER'S and COLOSSEUM pub tours u have a chance to discover the nightlife in 5 best dancebars and clubs, hanging out with a lot of people from many countries of the world, drink free beer and wine together and go dancing to the mixes of famous roman DJs.
http://www.modernights.com
potsdam-by-bike
'Potsdam by bike' – Your bike rental stations(3) in Potsdam; we are also specialised in guided bicycle tours in & around Potsdam Tour the city by bike – Potsdam is made for biking; explore on solitary paths the famous palaces, gardens and parks all within an easy cycle.
http://potsdam-by-bike.de
Mike's Biketours
Experience how much more there is to amsterdam than Coffeeshops and the red light district! Brand new cruises!lots of tips and advice
http://www.mikesbiketours.com
Nightwalk-Dresden
NightWalk Dresden – the other way, to get to know to the Outer Newtown Every evening at 21 o'clock in front of the "Nudelturm" at Albertplatz nosewise people meet, who want to get to know to the Outer Newtown, the well-known limelight quarter of Dresden from another point of view. From the artesian well over the Alaunstraße the NightWalker conquers the history of the quarter, the famous personalities like Erich Kästner, a famous author of children and adult stories, and especially the young scene with its locations for music, art, culture and culinaries - accompanied by a guide. Whether it is bats on the Katharinenstraße, waterbuffalos in the Kunsthof, or Gelbfüssler on the Alaunstraße, for every NightWalker something will fit. Stories out of the backyards, cultivation of oat on the sands or hunged on the Böhmische Straße, every agegroup will fulfill their personal preferences. A vodka on the Görlitzer Straße, a prosecco in a back garden of Louisenstraße, or a shot on the Königsbrücker Straße, all tastes will find their pleasure. Where were parts of GZSZ, a famous German daily soap, filmed? On which stage did Helge Schneider, Germany's No. 1 comedian, play his band under the table? Why did Erich Kästner play football in a pub? In which location did she rum? In these two and a half, three hours NightWalk all nosewises will get these and all other questions answered about the most hipest quarter in Germany. Individuals, small or large travelgroups, will be guided in Englisch, French or German throughout the night. Booking or special dates are possible under www.NightWalk-Dresden.de.
http://www.nightwalk-dresden.de
Ask Paddy
The holiday guide for Ireland, Car rental, Accommodation, Tour packages in Ireland, askpaddy has it all.
http://www.askpaddy.com
goedkoop overnachten
gratis gebruik van onze keuken
WLAN toegang is gratis
backpacker atmosfeer!
snelle reserveringsaanvraag

Om ons een gedetaileerde reserveringsaanvraag te sturen, of om een groepsreservering te maken, schrijf ons een vormloze e-mail (info@helterskelterhostel.com)

Je kunt ons ook telefonisch bereiken in Berlijn:
0049 (0) 30 280 44 99 7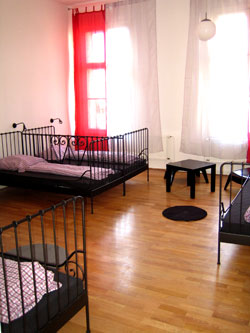 girls dorm bigger room



Helter Skelter Hostel
Kalkscheunenstr 4-5
10117 Berlin

Weißbach & Schwarz
GmbH & Co KG
Johannisstr 2
10117 Berlin
Deutschland

Mitglied des



AGB
Terms & Conditions
Impressum