CURRENT_LOCATION not translated yet : location >> Western Europe >>
POSSIBLE_LOCATION not translated yet : GENERAL

(13)

Austria

(26)

Belgium

(16)

Denmark

(8)

Finland

(1)

France

(39)

Germany

(152)

Greece

(17)

Iceland

(5)

Ireland

(65)

Italy

(125)

Netherlands

(33)

Norway

(6)

Portugal

(12)

Spain

(55)

Sweden

(10)

Switzerland

(59)

United Kingdom

(116)
CURRENT_CONTENT not translated yet : information >>
POSSIBLE_CONTENT not translated yet : accommodation

(705)

cityinfo

(70)

transportation

(29)
PAGES not translated yet : 0 10 20 30 40 50 60 70 80 90 100 110 120 130 140 150 160 170 180 190 200 210 220 230 240 250 260 270 280 290 300 310 320 330 340 350 360 370 380 390 400 410 420 430 440 450 460 470 480 490 500 510 520 530 540 550 560 570 580 590 600 610 620 630 640 650 (660) 670 680 690 700 710 720 730 740 750 760 770 780 790
RESULTS not translated yet :
Barcelona Lofts - Rooms from € 16 per night

Carrer de Roca 26
08002 Barcelona
Spain

We hosts couples, groups and young travellers in private converted apartments. Our apartments are located in the heart of Barcelona, in the old city and Eixample districts, just a 5 to 15 minutes walk from the Ramblas. What is a loft? A loft is a converted property which was a former shop, office or warehouse. Our lofts provide an alternative and relaxed location, bathroom and a small lounge where you can meet other guests.
baxpax Kreuzberg Hostel
If you're looking for a hostel in Berlin that combines a central location with an exciting neighbourhood, baxpax Kreuzberg is the place for you. You will stay in a spacious refurbished factory building in a typical Kreuzberg courtyard. We have wheelchair access, separate male and female toilets and showers, with individual cubicles, and single sex dormitories, if requested. Specials would be: a bed in a transformed Volkswagen Beetle in one of our dorms and a nice barbeque balcony outside the kitchen.
Great City Breaks
greatcitybreaks.com is a global city break destination guide which shows the best destinations across the globe as well as offering advice for buying travel online.
http://www.greatcitybreaks.com
Dizzy Daisy Hostel Gdańsk
Open: 1st of July - 29th of August 2007. Can u imagine hostel which is nearer to the city centre? Dizzy Daisy is only a 2 minute-walk from the Railway Station and 7 minutes from the Old Town in Gdańsk! Don't even bother to think about crowded buses, trams, city communication or... taxi. In our offer you'll find spacious and comfy dorms, cozy private rooms (single, twin, triple and quadruple) everything bright & clean. List of facilities and photo gallery is on your right - feel invited to take a look. Groups are warmly welcome as well as individual tourists! Our hostel is situated in the heart of the Old Town so forget about traffic noise and other inconveniences caused by a location in a big city. Dizzy Daisy in Gdańsk is famous for its BBQs - cold beer, delicious grilled sausages, great company - everybody loves it (hmm... maybe except our neighbours! ;) That's why it has become our tradition for almost 5 years. Now something for the party people - you'll appreciate hostel's nearness to the best clubs and pubs in North Poland. We can proudly say that majority of open-air concerts and cultural events is organized in Gdańsk & Sopot (to get there catch the SKM fast train which goes every 15 minutes, 24/7). Don't miss it! Gdansk is the most important of Poland's northern cities, and the birthplace of Jan Heweliusz, Arthur Schopenhauer and Gunter Grass, as well as the Solidarity movement. It is where the first shots of WWII were fired, at Westerplatte. The Main Town was carefully restored and is now the centre of Gdansk's architectural and cultural heritage. Dizzy Daisy Hostel is the closest place you can find to the Gdansk Shipyards.
www.seehaus-lichtblick.de
Seehaus Lichtblick - dem bäckpäcker in Strande, 15 km nördlich von Kiel Zentrum Wir haben unser Haus nach dem Vorbild der schwedischen Wanderheime verändert. Bei uns findest du günstige Übernach- tungsmöglichkeiten in einer lockeren Umgebung - und das nur 150 m von der Ostsee entfernt! Wir sind da für Fahrrad- und Motorradtouristen, Beachvolleyballer, Golfer, Künstler, Reiter, Taucher, Segler, Surfer und Angler, Handwerker, Hochzeitsgäste, Universitätsbesucher und ... überhaupt alle jungen und jung gebliebenen Reisenden (c; Kommunikation mit uns und unter den Gästen ist beabsichtigt und erwünscht.
Prague apartments > cheap Prague apartments
Prague apartments ,cheap Prague apartments,Old Town Square apartments Prague |Prague apartments Charles Bridge,Prague apartments Wenceslas Square,prague holiday apartments
http://www.hotelcomfort2003.com
A1 Soula Hotel & Hostel Naxos

Saint George Beach
84300 Naxos
Greece

A1 Soula Hotel is a friendly family run hotel and hostel located in the Saint George beach in Naxos island, only a 2 minutes walk from Naxos town centre. It is a small sized economy hotel with 22 rooms and 3 dorms. All comfortable and bright rooms have a balcony, bathroom, daily cleaning service, TV, refrigerator, a/c (extra charge), direct-dial phone, music, safety deposit boxes (reception), shower and WC. All dorms have private bathroom, TV, refrigerator, direct-dial phone, safety deposit boxes (reception), shower and WC. Also the hotel offers FREE transfer to/from port and airport, FREE internet access (ADSL), FREE wireless internet, TV lounge and breakfast (extra charge). FREE map, excursions, car rental, etc via reception.
CLUB 18/35
CLUB 18-35 is made for the persons between 18 and 35 years old... Created in 1947, CLUB 18-35 is a meeting point for young travelers whose will spent the unforgettable moments in their life !!! LIVE YOUR DREAMS WITH "CLUB 18-35" !
goedkoop overnachten
gratis gebruik van onze keuken
WLAN toegang is gratis
backpacker atmosfeer!
snelle reserveringsaanvraag

Om ons een gedetaileerde reserveringsaanvraag te sturen, of om een groepsreservering te maken, schrijf ons een vormloze e-mail (info@helterskelterhostel.com)

Je kunt ons ook telefonisch bereiken in Berlijn:
0049 (0) 30 280 44 99 7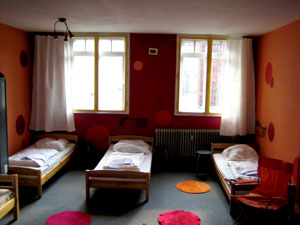 girls dorm



Helter Skelter Hostel
Kalkscheunenstr 4-5
10117 Berlin

Weißbach & Schwarz
GmbH & Co KG
Johannisstr 2
10117 Berlin
Deutschland

Mitglied des



AGB
Terms & Conditions
Impressum