CURRENT_LOCATION not translated yet : location >>
POSSIBLE_LOCATION not translated yet : GENERAL

(11)

Africa

(14)

America

(142)

Asia ; middle East

(80)

Australia ; Oceania

(7)

Eastern Europe ; Russia

(351)

Western Europe

(798)

World

(23)
CURRENT_CONTENT not translated yet : information >>
POSSIBLE_CONTENT not translated yet : accommodation

(1253)

cityinfo

(130)

transportation

(81)
PAGES not translated yet : 0 10 20 30 40 50 60 70 80 90 100 110 120 130 140 150 160 170 180 190 200 210 220 230 240 250 260 270 280 290 300 310 320 330 340 350 360 370 380 390 400 410 420 430 440 450 460 470 480 490 500 510 520 530 540 550 560 570 580 590 600 610 620 630 640 650 660 670 680 690 700 710 720 730 740 750 760 770 780 790 800 810 820 830 840 850 860 870 880 890 900 910 920 930 940 950 960 970 980 990 1000 1010 1020 1030 1040 1050 1060 1070 1080 (1090) 1100 1110 1120 1130 1140 1150 1160 1170 1180 1190 1200 1210 1220 1230 1240 1250 1260 1270 1280 1290 1300 1310 1320 1330 1340 1350 1360 1370 1380 1390 1400 1410 1420
RESULTS not translated yet :
CNN Backpackers

2081 Peninsula Road
V0R 3A0 Ucluelet
Canada
C&N BACKPACKERS Guesthouse

241 campbell street
Tofino (VANCOUVER ISLAND) BC
Canada
C&N BACKPACKERS CHALET

1492 Harrow Road
Whistler/ Pemberton BC
Canada
C&N BACKPACKERS HOSTELS

927 Main street
V6A2V8 Vancouver
Canada

providing clean inexpensive accomodateion for $ 16 and up centrally located, kitchen, lounge, tour desk, hostel activities, internet, free parking, no curfew or crazy rules
C&N CENTRAL STATION HOSTEL

1038 Main street
V6A2V8 Vancouver
Canada

across the street from train station and busdepot, walking distnace to all major tourist attractions, $ 16 and up, free linen, free maps, free airport pickup with strech limo (no joke) kitchen, internet, bar restaurant
The Finest Luxury Hostel in Madurai

642,K.K.Nagar,Opp.to the Hindu Office,
625020 Madurai,Tamilnadu,
India

International Boutique Hostel in Madurai,India - Dormitories & Deluxe rooms are available for rent. Elements hostel is the most Luxurious, affordable, safe and comfortable place to stay in Madurai, for Backpackers and any other kind of travelers.For More details visit us at http://www.elementshostel.com/madurai. Elements Hostel, No.642,KK Nagar, Opp to Hindu Office, Madurai-625020. TN,India
www.seehaus-lichtblick.de
Seehaus Lichtblick - dem bäckpäcker in Strande, 15 km nördlich von Kiel Zentrum Wir haben unser Haus nach dem Vorbild der schwedischen Wanderheime verändert. Bei uns findest du günstige Übernach- tungsmöglichkeiten in einer lockeren Umgebung - und das nur 150 m von der Ostsee entfernt! Wir sind da für Fahrrad- und Motorradtouristen, Beachvolleyballer, Golfer, Künstler, Reiter, Taucher, Segler, Surfer und Angler, Handwerker, Hochzeitsgäste, Universitätsbesucher und ... überhaupt alle jungen und jung gebliebenen Reisenden (c; Kommunikation mit uns und unter den Gästen ist beabsichtigt und erwünscht.
Joy Hotel
Hanoi hotels, hotels in Hanoi, cheap hotels in Hanoi, budget hotels in Hanoi
Prague apartments > cheap Prague apartments
Prague apartments ,cheap Prague apartments,Old Town Square apartments Prague |Prague apartments Charles Bridge,Prague apartments Wenceslas Square,prague holiday apartments
http://www.hotelcomfort2003.com
Auberge du boutdumonde
Located in an amazing spot, the Auberge du boutdumonde youth hostel offers cheap accommodation to travelers who wish to visit L'Anse-Saint-Jean (a member of the Association of the Most Beautiful Villages in Quebec), the Saguenay Park or to do winter sports at Mt. Edouard, the local ski resort. Our visitors will benefit from a wide range of year-round outdoor recreation nearby our hostel: kayaking, hiking, horseback riding, skiing, snowshoeing, winter fishing, etc. Moreover, L'Anse-Saint-Jean is well-known for its welcoming atmosphere, for its creative craftsmen and craftswomen, as well as for the beauty of its landscape. If you are looking for a quiet yet dynamic place that is off the beaten track, to relax or explore the hundred faces of the Saguenay Fjord, you will be delighted by our small hostel.
goedkoop overnachten
gratis gebruik van onze keuken
WLAN toegang is gratis
backpacker atmosfeer!
snelle reserveringsaanvraag

Om ons een gedetaileerde reserveringsaanvraag te sturen, of om een groepsreservering te maken, schrijf ons een vormloze e-mail (info@helterskelterhostel.com)

Je kunt ons ook telefonisch bereiken in Berlijn:
0049 (0) 30 280 44 99 7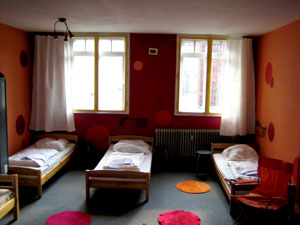 girls dorm



Helter Skelter Hostel
Kalkscheunenstr 4-5
10117 Berlin

Weißbach & Schwarz
GmbH & Co KG
Johannisstr 2
10117 Berlin
Deutschland

Mitglied des



AGB
Terms & Conditions
Impressum