CURRENT_LOCATION not translated yet : location >> Western Europe >>
POSSIBLE_LOCATION not translated yet : GENERAL

(13)

Austria

(26)

Belgium

(16)

Denmark

(8)

Finland

(1)

France

(39)

Germany

(153)

Greece

(17)

Iceland

(5)

Ireland

(65)

Italy

(125)

Netherlands

(33)

Norway

(6)

Portugal

(12)

Spain

(55)

Sweden

(10)

Switzerland

(59)

United Kingdom

(116)
CURRENT_CONTENT not translated yet : information >>
POSSIBLE_CONTENT not translated yet : accommodation

(705)

cityinfo

(71)

transportation

(30)
PAGES not translated yet : 0 10 20 30 40 50 60 70 80 90 100 110 120 130 140 150 160 170 180 190 200 210 220 230 240 250 260 270 280 290 300 310 320 330 340 350 360 370 380 390 400 410 420 430 440 450 460 470 480 490 500 510 520 530 540 550 560 570 580 590 600 610 620 630 640 650 660 (670) 680 690 700 710 720 730 740 750 760 770 780 790 800
RESULTS not translated yet :
A1 Soula Hotel & Hostel Naxos

Saint George Beach
84300 Naxos
Greece

A1 Soula Hotel is a friendly family run hotel and hostel located in the Saint George beach in Naxos island, only a 2 minutes walk from Naxos town centre. It is a small sized economy hotel with 22 rooms and 3 dorms. All comfortable and bright rooms have a balcony, bathroom, daily cleaning service, TV, refrigerator, a/c (extra charge), direct-dial phone, music, safety deposit boxes (reception), shower and WC. All dorms have private bathroom, TV, refrigerator, direct-dial phone, safety deposit boxes (reception), shower and WC. Also the hotel offers FREE transfer to/from port and airport, FREE internet access (ADSL), FREE wireless internet, TV lounge and breakfast (extra charge). FREE map, excursions, car rental, etc via reception.
CLUB 18/35
CLUB 18-35 is made for the persons between 18 and 35 years old... Created in 1947, CLUB 18-35 is a meeting point for young travelers whose will spent the unforgettable moments in their life !!! LIVE YOUR DREAMS WITH "CLUB 18-35" !
BVJ PARIS

20, rue Jean-Jacques-Rousseau
75001 Paris
FRANCE

We are the oldest Youth Hostels in the hurt of Paris, which reflects the life-style of the capital. Our Youth Hostel is created in 1948, open 24h/24h without any interruption during all the year. For sure, BVJ is a meeting point for young travelers visiting Paris. You can reach any point of the capital in less then 20 minutes.
Il Cigno Hostel

Via Stipeto 34
55044 Versilia (Marina di Pietrasant)
Italy
BVJ PARIS Youth Hostel
The first Youth hostel of Paris. Founded in 1948, open 24H/24H non stop during all the year. Located in the hurt of the first district of Paris, 200 meters closed to Louver Museum and King Garden. A FREE, no limit breakfast served every morning to our resident, from 07H15 until 09H15.
Downtown Paraiso Hostel
Owned and managed by 4 friends Downtown Paraiso Hostel offers you comfortable and affordable accommodation on a perfect location. Situated in central Barcelona, 150 meters from the Ramblas, La Boqueria Market and the main tourist attractions, our place is designed for you to have a great time on a warm and friendly atmosphere. The Hostel has no curfew, no lock out, it's open 24hs. Easy to reach from all Airports, Bus and Train Stations and surrounded by cafés, restaurants, theatres, supermarkets, bakeries, laundromats, post office, and of course nightlife! Our rooms are clean and comfortable all newly decorated, most of them with en-suite facilities: Twins, Doubles and Dorms – so whether you are traveling solo or with your mates, there's always someone to go out with. They all have lockers where you can leave your things for free (just bring a padlock!) Bed linen, blankets and personal room keys provided. Also available for guest's use is a lounge and CABLE TV/DVD room with international channels. Hang out in the common room and chat with new friends or relax with a movie on our plasma TV (choose some DVD for free at the front desk!) High speed Internet access is available as well as free WiFi access for guests with their own laptop. We have a fully equipped kitchen to prepare your own meals and luggage–storage for free on the day you're checking out. You can check-in at any time. If you know you are arriving later than 10pm, please send us an e-mail with your booking reference number to let us know at what time you are going to arrive. Our staff is on hand to answer your queries 24hs, speaking Spanish, English, Italian, Greek, German and Portuguese. Downtown Paraiso Hostel is your home away from home and a brilliant place for making friends and enjoying all the sights Barcelona has to offer!
Paris - Einkaufs- Reise- und Stadtführer
Paris - Online Einkaufs- Reise- und Stadtführer zu Mode, Modelagenturen, Geschäften, Restaurants, Hotels, Bars und Klubs, Delikatessen, Kunst, Museen, Sport, Theatern . . .
http://www.online-in-paris.de
Pension Hotel Luisenstadt

Köpenicker Str. 56 / 57
10179 Berlin
Germany

Luisenstadt, die Pension in Berlin Mitte. Sehr preiswerte Pension nahe dem MOMA, Zimmer mit Du,WC buchen Sie ab 16 Euro p.P. nahe Alexanderplatz in der historischen 'alten Mitte' Berlins
HOSTEL MILAN ITALY

Via Gustavo Modena,20
20129 Milan
Italy

To book rooms in Brasil Hostel Milan, select an arrival date, the number of nights you want to stay and the currency you want prices to be displayed in, then click on the "CHECK AVAILABILITY" button to see the search results.
goedkoop overnachten
gratis gebruik van onze keuken
WLAN toegang is gratis
backpacker atmosfeer!
snelle reserveringsaanvraag

Om ons een gedetaileerde reserveringsaanvraag te sturen, of om een groepsreservering te maken, schrijf ons een vormloze e-mail (info@helterskelterhostel.com)

Je kunt ons ook telefonisch bereiken in Berlijn:
0049 (0) 30 280 44 99 7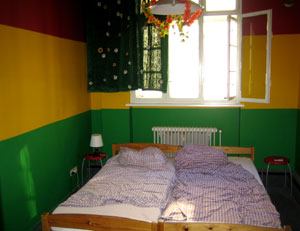 jamaica



Helter Skelter Hostel
Kalkscheunenstr 4-5
10117 Berlin

Weißbach & Schwarz
GmbH & Co KG
Johannisstr 2
10117 Berlin
Deutschland

Mitglied des



AGB
Terms & Conditions
Impressum