CURRENT_LOCATION not translated yet : location >> Western Europe >>
POSSIBLE_LOCATION not translated yet : GENERAL

(13)

Austria

(26)

Belgium

(16)

Denmark

(8)

Finland

(1)

France

(39)

Germany

(153)

Greece

(17)

Iceland

(5)

Ireland

(65)

Italy

(125)

Netherlands

(33)

Norway

(6)

Portugal

(12)

Spain

(55)

Sweden

(10)

Switzerland

(59)

United Kingdom

(116)
CURRENT_CONTENT not translated yet : information >>
POSSIBLE_CONTENT not translated yet : accommodation

(705)

cityinfo

(71)

transportation

(30)
PAGES not translated yet : 0 10 20 30 40 50 60 70 80 90 100 110 120 130 140 150 160 170 180 190 200 210 220 230 240 250 260 270 280 290 300 310 320 330 340 350 360 370 380 390 400 410 420 430 440 450 460 470 480 490 500 510 520 530 540 550 560 570 580 590 600 610 620 630 640 650 660 670 680 690 700 (710) 720 730 740 750 760 770 780 790 800
RESULTS not translated yet :
Desmond House B&B Kinsale

42 Cork Street
Kinsale, Co. Cork
Ireland

Desmond House is a luxurious B&B guesthouse located in the centre of Kinsale, Co. Cork in Ireland.
hostelxberger Das Hostel in Berlin

Schlesischestr.22
10997 Berlin
Germany

Unser Hostel wurde Anfang 2006 im Backpackerstyle ausgebaut. Auch Monteure oder Reisegruppen können sich hier durchaus wohlfühlen. Die Sanitäranlagen liegen im Haus zentral und sind nach Geschlechtern getrennt. Für Mädchen und Frauen gibt es auf Wunsch einen eigenen Schlafraum. Die Zimmer sind alle geräumig und hell.
annunci roma
Comunità online di scambio initalia. Pubblica i tuoi annunci classificati gratis initalia
http://www.adoos.it
ReiseLux.com - Last Minute Urlaub
Offers holidays including last minute holiday deals, package holidays, cheap holidays, cheap flights and accommodation. Weltweit Last Minute, Hotel, Reise, Flug, Urlaub, Mietwagen und Ferienhaus Angebote von allen renommierten Reiseveranstaltern und Airlines.
http://www.reiselux.com
P?o de A?ucar Bed & Breakfast

Rua do Almada,262
4050-032 Porto
Portugal

Pão de Açucar offers 51 spacious and comfortable guest rooms with a private bathroom, air-conditioning, mini bar and hairdryer, and also 6 suites, and 6 rooms with private terrace and a magnificent view over the Town Hall. Each guest room is equipped with direct outside telephone line, a mini-bar and satellite TV. Services: continental-breakfast included in the room rate, room service, laundry, Wi-Fi Lan Internet Access, fax, bar, rent-a-car, automatic wake-up calls and parking facilities. We accept Visa and Mastercard credit cards.
Hotel Neos Olympos

38 Th. Deligianni Str.
10438 Athens
Greece

Hotel Neos Olympos is situated in the heart of Athens in front of metro and the Central train station. We offer 30 clean spacious rooms for 1,2,3 or 4 persons most of them with balcony, many with private bathrooms and others with shared facilities but ALL with central heating, air condition and tv. You can choose between rooms and dormitories! The reception is open 24 hours per day, 365 days per year to help you. We are close to Metro, Central railway station, Flea Market, Acropolis(4 metro stops), Plaka , Internet Cafes, Greek Taverns, shops, Laundry, Travel agency, Night clubs. The traditional building established in 1938 is recently (2004) fully renovated but keeps its traditional character. Come to feel the friendly remarkable atmosphere! We also offer: Free! Fresh sheets! Free left luggage! For as long as you are around the city or the island. Free hot showers! 24 hours per day. Free Safe! For your valuables. Information! About your next move, how and where to go. HOW TO FIND OUR HOTEL. Come out of the Larissa-Europe station, turn right, walk 100m and there you are. From piraeus catch the metro to Omonia. From Omonia catch the red line metro to Larissa station. From Airport catch the suburban to Larissa train station. From any other arrival point or about any other question, call us to give you directions for the cheapest and more convinient way to the Hotel. Enjoy Greece!
Humboldt Tours Berlin, www.humboldttoursberlin.com
Humboldt Tours Berlin offers historical walking tours from local doctoral students of German history, and visiting scholars from the American Fulbright Program. -Also check out the Wild East Pub Crawl in Kreuzberg and Prenzlauer Berg!
http://www.humboldttoursberlin.com
FAMOUS H?ME HOSTELS

Hedilla 58
08031 Barcelona
Spain

Home Guest House is a natural and peaceful space in Barcelona. Located in the district of Horta, 5 minutes walk from 'Valldaura' metro station - Green line, L3. At Home you will find a friendly, fun and warm atmosphere in a big old house built at the turn of the 20th century. Our guest house has large sunny bedrooms, clean bathrooms, a colorful and fully-equipped self-catering kitchen, and a DVD room. Our staff are friendly, informed, helpful and multi-lingual. Come to Home to chill out in the garden, have a barbeque, sunbathe on the roof terrace or relax with a glass of wine on the comfortable sofas in the lounge. Home is the ideal spot if you want to meet people in a quiet and international place. Enjoy the real Barcelona during the day and at night, come Home to taste the quality of spanish life. Feel free, get Home.
FAMOUS H?ME HOSTELS

Plaza Vicente Iborra 11
46003 Valencia
Spain

Welcome to Hôme Backpackers, right in the heart of the lively El Carmen district. We offer the funkiest and friendliest hostel in town – providing spacious bedrooms, each complete with lots of natural light. We also have a large living room where guests can chill out, drink a beer and make new friends, a fully equipped kitchen big enough to swing a cat in and a multitude of spotless bathrooms. We have at your disposal not 1, but 2 roof terraces complete with hammocks, flora and fauna and a view of the city. Also, make sure not to miss out on our Supersonic Monday Party and wednesday Funky Party !!! Free for all Valencia Home hostels guest !!!
goedkoop overnachten
gratis gebruik van onze keuken
WLAN toegang is gratis
backpacker atmosfeer!
snelle reserveringsaanvraag

Om ons een gedetaileerde reserveringsaanvraag te sturen, of om een groepsreservering te maken, schrijf ons een vormloze e-mail (info@helterskelterhostel.com)

Je kunt ons ook telefonisch bereiken in Berlijn:
0049 (0) 30 280 44 99 7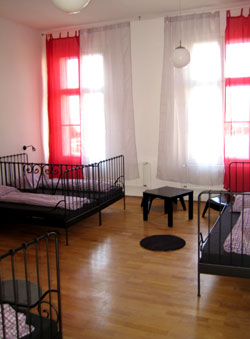 girls dorm bigger room



Helter Skelter Hostel
Kalkscheunenstr 4-5
10117 Berlin

Weißbach & Schwarz
GmbH & Co KG
Johannisstr 2
10117 Berlin
Deutschland

Mitglied des



AGB
Terms & Conditions
Impressum