CURRENT_LOCATION not translated yet : location >> Western Europe >>
POSSIBLE_LOCATION not translated yet : GENERAL

(13)

Austria

(26)

Belgium

(16)

Denmark

(8)

Finland

(1)

France

(39)

Germany

(153)

Greece

(17)

Iceland

(5)

Ireland

(65)

Italy

(125)

Netherlands

(33)

Norway

(6)

Portugal

(12)

Spain

(55)

Sweden

(10)

Switzerland

(59)

United Kingdom

(116)
CURRENT_CONTENT not translated yet : information >>
POSSIBLE_CONTENT not translated yet : accommodation

(705)

cityinfo

(71)

transportation

(30)
PAGES not translated yet : 0 10 20 30 40 50 60 70 80 90 100 110 120 130 140 150 160 170 180 190 200 210 220 230 240 250 260 270 280 290 300 310 320 330 340 350 360 370 380 390 400 410 420 430 440 450 460 470 480 490 500 510 520 530 540 550 560 570 580 590 600 610 620 630 640 650 660 670 680 690 700 710 720 (730) 740 750 760 770 780 790 800
RESULTS not translated yet :
Zorbas Hotel

10 GKYILFORDOU STREET
10434 Athens
Greece
Euro Hostel

318 Clyde Street
G1 4NR Glasgow
United Kingdom

Euro Hostels - cheap backpackers hostels in cities in the UK providing comfortable accommodation at fantastic prices!
Mike's Biketours
Experience how much more there is to amsterdam than Coffeeshops and the red light district! Brand new cruises!lots of tips and advice
http://www.mikesbiketours.com
Nightwalk-Dresden
NightWalk Dresden – the other way, to get to know to the Outer Newtown Every evening at 21 o'clock in front of the "Nudelturm" at Albertplatz nosewise people meet, who want to get to know to the Outer Newtown, the well-known limelight quarter of Dresden from another point of view. From the artesian well over the Alaunstraße the NightWalker conquers the history of the quarter, the famous personalities like Erich Kästner, a famous author of children and adult stories, and especially the young scene with its locations for music, art, culture and culinaries - accompanied by a guide. Whether it is bats on the Katharinenstraße, waterbuffalos in the Kunsthof, or Gelbfüssler on the Alaunstraße, for every NightWalker something will fit. Stories out of the backyards, cultivation of oat on the sands or hunged on the Böhmische Straße, every agegroup will fulfill their personal preferences. A vodka on the Görlitzer Straße, a prosecco in a back garden of Louisenstraße, or a shot on the Königsbrücker Straße, all tastes will find their pleasure. Where were parts of GZSZ, a famous German daily soap, filmed? On which stage did Helge Schneider, Germany's No. 1 comedian, play his band under the table? Why did Erich Kästner play football in a pub? In which location did she rum? In these two and a half, three hours NightWalk all nosewises will get these and all other questions answered about the most hipest quarter in Germany. Individuals, small or large travelgroups, will be guided in Englisch, French or German throughout the night. Booking or special dates are possible under www.NightWalk-Dresden.de.
http://www.nightwalk-dresden.de
www.all-in-hostels.com

Gr?nberger Str. 54
10245 Berlin
Germany

If you're looking for a great place to stay in Berlin, central to everything you must see, with friendly staff, a clean and safe environment then the ALL IN HOSTEL is the only option. We are located in the centre of the city, close to everything a backpacker, tourist, or group could want from Berlin
Ask Paddy
The holiday guide for Ireland, Car rental, Accommodation, Tour packages in Ireland, askpaddy has it all.
http://www.askpaddy.com
Sunrock Backpackers hostel

Pelekas Beach
490084 Corfu
Greece

When your tired of missed connections, ferries, trains and unfamiliar city streets, sunrock is the perfect home to rest and play whilst enjoying our range of delicious freshly cooked breakfasts and home cooked evening meals. All of which are freshly prepared from our increasing range of home grown organic produce from our own farm. Whether you choose to party in the bar, relax on our massive sundeck or chill out on the beach beside a bonfire, there is plenty of nightlife for everyone at Sunrock. Located on the waterfront of wide, sweeping, sandy, Pelekas beach, Sunrock enjoys spectacular views across the turqoise blue waters of the Ionian sea. And with the unrivalled sunsets, it's not hard to realise why Sunrock is described by Lonely planet as ' The next backpackers hangout'. Guests can enjoy our exclusive boat trips, soaking up the sun whilst enjoying the views of the coastline. Or How about relaxing in our exclusive mudbath to cleanse the body and mind. Sunrock is the perfect base to rent a Scooter or a car and explore the island or follow our hiking trails to experience the natural beauty of the west coast. Offering beds in a range of rooms priced to suit your budget, you can choose from Sea-view balconies, ensuite bathrooms or shared facilities. Whatever option you choose, our prices always include your choice of our range of home cooked breakfasts which are freshly prepared and served served until 1pm and also a 2 course home cooked evening meal of traditional greek cuisine.
Hostel H?tteldorf Vienna

Schlossberggasse 8
A-1130 Vienna
Austria

Vienna's cheapest quality beds you may find at HH Hostel Hütteldorf
A Scalinatella Hostel

piazza umberto 1 5/6
840 10 Atrani ,amalfi
Italy
Trondheim Interrail Centre

Elgesetergate 1
7030 Trondheim
Norway
goedkoop overnachten
gratis gebruik van onze keuken
WLAN toegang is gratis
backpacker atmosfeer!
snelle reserveringsaanvraag

Om ons een gedetaileerde reserveringsaanvraag te sturen, of om een groepsreservering te maken, schrijf ons een vormloze e-mail (info@helterskelterhostel.com)

Je kunt ons ook telefonisch bereiken in Berlijn:
0049 (0) 30 280 44 99 7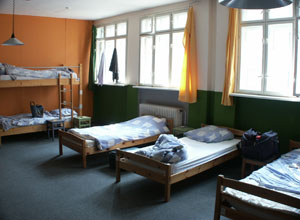 our big dorm



Helter Skelter Hostel
Kalkscheunenstr 4-5
10117 Berlin

Weißbach & Schwarz
GmbH & Co KG
Johannisstr 2
10117 Berlin
Deutschland

Mitglied des



AGB
Terms & Conditions
Impressum